If images below are not visible, please click HERE to view online.
Mark your Calendar!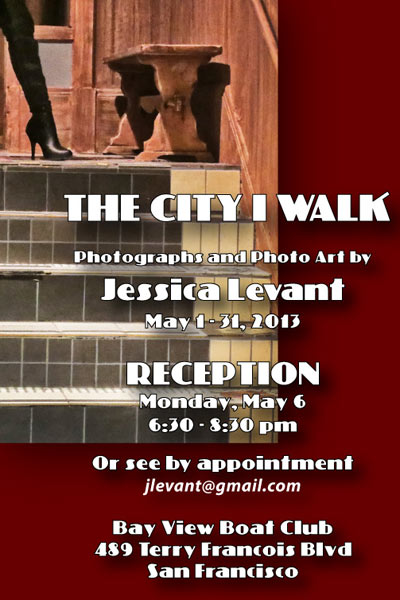 I'm excited about my 4th solo show at the Bay View Boat Club which will be on view for the whole month of May. The show is called 'The City I Walk' since all the images are of the San Francisco I happen upon during the course of my 'normal' days. The reception (with musical accompaniment by Randy Craig's trio) will be Monday evening, May 6 from 6:30 - to 8:30. If you're anywhere near the Bay Area, please come say hello, enjoy the music and have a look at 'my city'!
Parking in the lot is .25/hour - be sure to leave a receipt on the dash so you don't get a ticket.  When you arrive, please sign the guest book, putting me down as sponsor.  It's the law!
As usual, I'll have a bin of unframed works and maybe some more one-night-only framed pieces at a special show discount, so if you have a space on your wall, or need a gift (Mothers' Day is approaching!), prepare to look them over. Credit Cards accepted.
---
New Works
Some 'fun photos' this month from 3 recent music evenings.
---
Continuing Shows:

Still Point Gallery's Everyday Ordinary Objects continues to be exhibited until April 30. My 5 pieces are sort of in the middle of the page at: http://www.stillpointartgallery.com/index.php?action=gallery&id=23 One piece above (Grater, on the far left) is also featured in their quarterly print journal.
And still in Oakland
The CK Gallery, PIedmont Avenue in Oakland had extended its show. My two pieces, Love Notes, framed in black at 16 x 20" and The Look, in a 22 x 28" black frame are there.

---
Street Seens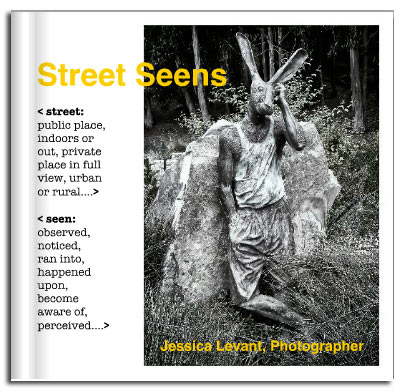 Still available - It's 8 x 8" and 80 pages.

You can preview the whole book HERE. It's only available online - purchase details on the preview page.
---
As always, I love hearing from you with comments, critiques, questions and suggestions or to just generally keep in touch. Every month I get back in touch with a few folks from far away. Please forward this email if you think it would be of interest to anyone you know. And, of course, if you don't want to receive my monthly announcements any more, you can unsubscribe below. Previous newsletter editions are available here.